Tired of unclogging toilets, sinks, and drains?
Quickly get the job done using this
 Quick-Foam Home & Toilet Cleaner! 
Its
excellent foam formula instantly liquefies stains, rusts, grease, and hair once and for all!
Dissolves grease, hair, oils, rusts, and stains
Tornado Sink & Drain Cleaner gets the job done by dissolving grease, hair, paper, soap scum, oils, and organic matter easily! 
It won't harm your drains, pipes or septic system, as it's made only from non-corrosive and non-caustic materials. It liquifies fats, oils, lint, paper, hair and other organic matter causing drain obstructions.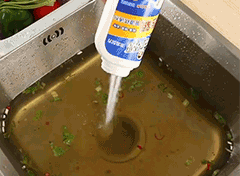 Using a high-density formula, our products stick to the walls of your pipes and alters the pH level to rapidly dissolve the obstruction.
Purchase Sink & Drain Cleaner for a very affordable price, save a fortune for yourself, and have a much cleaner house!
Made of
non-corrosive and non-caustic formula that's safe on septic systems.
Effective and powerful in unclogging the drain.
Eliminates all kinds of drainage blocks and barriers.
Maintains free-flowing pipes
and
drains.
Odorless & Perfect to use
on
sinks, toilets, tubs, pipes and drain lines.
Never plunge a toilet ever again with this Quick-Foam Home & Toilet Cleaner! Always make cleaning fast and simple! 
Click 'BUY IT NOW!' to get yours.
---