Some cats get very upset about their owner leaving the home. This toy is a great solution. Turn it on just before stepping out of the door. This automatic cat toy mimics the natural hide-and-seek movement to get your cat's attention! It's one of the best toys to keep your cat in shape and engaged. Super durable – built to last for a long time! Watch your curious cat try to capture the mouse before it hides in the cheese! It has 4 variable speed settings (slow, medium, fast, random) to suit every cat's play habits and will automatically turn off after 10 minutes. Buy it now!
This Automatic Cat Toy Mimics The Natural Hide-And-Seek Movement To Get Your Cat's Attention!
Want To Keep Your Cat Excited?
 One Of The Best Toys To Keep Your Cat In Shape And Engaged.
 Super Durable - Built to Last For A Long Time!
 Watch Your Curious Cat Try To Capture The Mouse Before It Hides In The Cheese!
 4 Variable Speed Settings (Slow, Medium, Fast, Random) To Suit Every Cat's Play Habits.
 Automatically Turns Off After 10 Minutes.
 Pro-Tip: Some Cats Get Very Upset About Their Owner Leaving The Home. This Toy Is A Great Solution... Turn It On Just Before Stepping Out Of The Door.
 Uses 3 x AA batteries (not included)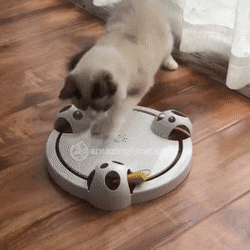 Limited time offer! '

The product is not sold in stores

'
Click the 'Buy it now!' button now to secure this amazing interactive mouse pounce cat toy.
---