LOOK 10 YEARS YOUNGER WITH JUST ONE PEEL!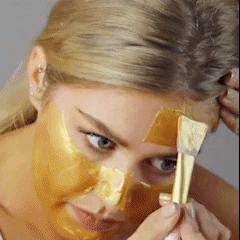 Stay Gold! Gold has been used throughout history to heal and enhance the skin, this brilliant peel-off gold mask does exactly that! It heals and enhances your skin!
Made with 24K Gold micro-essence, this mask will effectively erase fine lines and return the youthful glow to you!
Want to achieve a youthful glow without spending time and money going to clinics for an expensive treatments? We got you covered as we introduce you the 24K GOLD FACE MASK.
24K Gold Face Mask is a PEEL-OFF MASK that is SPECIALLY FORMULATED with the POWER of 24K GOLD to HELP your SKIN EGT FIRMER and REDUCE the APPEARANCE of FINE LINES and WRINKLES. It also INSTANTLY WHITENS, SMOTTHES and SOFTENS SKIN. It can EFFECTIVELY REMOVE BLACKHEADS and MINIMIZE PORES as well.
The 24K Gold Peel-Off Mask is specifically formulated to help getting your skin firmer, reduce the appearance of fine lines and wrinkles as it also quickly whitens, smoothes and softens skin while being gentle to your skin. When peeled off, the mask also helps with the removal of blackheads and minimizes pores. You can now have a youthful skin in the comfort of your home
 
-
24K Gold Face Mask has a KEY INGREDIENTS of 24K GOLD, GLYCERIN, SODIUM HYALURONATE, and PENTYLENE GLYCOL making it POWERFULY EFFECTIVE but GENTLE on the SKIN. It LEAVES SKIN MOISTURIZED right after PEELING OFF the mask.  


It is SAFE for ALL SKIN TYPES and DOES NOT HAVE ANY SIDE EFFECTS. It is GUARANTEED to provide INSTANT RESULTS right after the FIRST APPLICATION. It is EASY to USE just SPREAD a SUITABLE AMOUNT and let sit for 20 minutes and when it is dry, just PEEL it OFF.
Features:
Firms your skin: With our special formula, it firms your skin and make you look 10 years younger.
Anti wrinkle and lifting: It has 24K gold that serves as an antioxidant and anti-inflammatory to calm acne inflammation and reduce redness, and protects against free radicals that lead to wrinkles , for a youthful glow.

Moisturizing: It leaves the skin soft and and moisturized after peeling off the mask.
Brightening and whitening: It effectively brightens and whitens skin immedeately after peeling off the mask.
For all skin types: No side effects, safe for all skin types.
Instant result: You will see an instant change right after your first application. 
Blackheads removal and Minimizes pores: The mask helps removing blackheads and it deeply cleans pores for acne-free skin.
Easy to use: Just spread a suitable amount and let sit for about 20 minutes, no need for other tools to cure, just let dry and peel off.
Money saver: No need to spend too much and money in the clinics to have a perfect skin, you can do it in the comfort of your own home.
Click 'BUY IT NOW!' to get yours.
100% MONEYBACK GUARANTEED!
---
---